The award winners of DOK.fest München 2021 @home
Ceremony of the main awards 2021
At the presentation of the main prizes, the winners of our VIKTORs were also solemnly announced. We are pleased to present all the winners of the DOK.fest München @home to you.
To the DOK.forum award winners
VIKTOR Main Competition DOK.international
ANNY
Director: Helena Třeštíková
Jury statement: "The beautifully intimate and superbly crafted film ANNY, follows its protagonist over 16 years, starting when she is 46 years old and begins working as a sex-worker on the streets of Prague to supplement her income as a restroom attendant. Helena Třeštíková masterfully combines this longitudinal approach with a modest film length. Without any gratuitous or superficial moments, Třeštíková treats her seemingly ordinary yet multifaceted protagonist with great respect and care. A poignant celebration of the human spirit, the film also reveals economic struggles and touches on life in the Czech Republic during and after communism."
Jury: Dominik Kamalzadeh (Cultural journalist and author), Hanka Kastelicová (Vice President of HBO Europa), Lisa Kleiner Chanoff (Co-founder of Catapult Film Fund)
Endowed with 10,000 euros. The prize is sponsored by Bayerischer Rundfunk and Story House Productions, a company of the Bavaria Film Group. Nominations were open to films that cover a broad spectrum of content and form and are distinguished by their high artistic quality.
VIKTOR DOK.deutsch
ZUHURS TÖCHTER (ZUHUR'S DAUGHTERS)
Directors: Laurentia Genske, Robin Humboldt
Jury statement: "They put on make-up, they listen to music, they talk about boys. Samar and Lohan long to have a real life. The right life in the right body. The two sisters are trans. In their home country of Syria, that would have meant certain death. "If your son or wife does something forbidden and you don't kill them, you have to leave," their father explains. So he fled to Germany with his two wives and four children. Because "who is capable of killing their own child? Your child is part of your soul," he says. Talib and his wife Zuhur do not understand their children, but mostly they worry about them. Filmmakers Laurentia Genske and Robin Humboldt show all this with great empathy. Their film follows and documents in the best sense the transwomen's path to the life they hoped for – with all its hurdles and difficulties. And at the same time it reveals to the audience what it means to be a foreigner, a refugee and a woman."
Jury: Vesna Cudic (Head of MetFilm Sales), Christian Bräuer (Managing Director Yorck Kinogruppe and Chairman of AG Kino), Joana de Sousa (Filmmaker und curator)
Endowed with 5,000 euros. The nominees were films that deal with people and topics in the German-speaking world.
VIKTOR DOK.horizonte
THINGS WE DARE NOT DO
Director: Bruno Santamaría
Jury statement: "The film reveals a child's world of wonder and joy amidst the violence of adult life in their community. The jury was mesmerized by the filmmaker's delicate and caring way of looking at his main characters. Through their daily rituals and deep existential awakenings the youth counter the heartbreaking realities of life with incredible bravery and a deep desire to, in fact, dare to be themselves. The film culminates in a breathtaking plea for acceptance and love that stayed with the jury long after the credits rolled. It was simply beautiful. The VIKTOR DOK.horizonte goes to THINGS WE DARE NOT DO by Bruno Santamaría."
Jury: Hedva Goldschmidt (Geschäftsführerin of Go2Films), Ulla Hocker (Head of Programme & Communication, ARTE Germany), Selin Murat (Head of Industry at Montreal International Documentary Film Festival (RIDM))
The nominees were films that direct their attention to countries with unstable structures.
megaherz Student Award
THE CASE YOU
Director: Alison Kuhn

Jury statement: "THE CASE YOU literally shines a spotlight on one of the most pressing issues within our industry today. The film impresses with the precision with which it depicts and accuses abuse of power. It is loud and poignant at the same time and convinced us with its relevance, the courage of the protagonists, but also with its cinematic realisation. The criticism the film makes is not only directed against the power structures within the film industry, but it is aimed at a larger problem inherent in the system. THE CASE YOU is an ode to community cohesion, to 'sisterhood'. We hope to see brave projects like this from our fellow students and filmmakers in general in the future."
Jury: Jasmine Alakari, Felix Klee, Lisa Polster
A jury of students awards the prize to a film in the Student Award series. Endowed with 3,000 euros, donated by the film production company megaherz.

Student Award Special Mention:
MEIN VIETNAM (MY VIETNAM)
Directors: Hien Mai und Tim Ellrich
Jurybegründung: "Our Special Mention goes to MEIN VIETNAM by Hien Mai and Tim Ellrich, a film that talks about distance and barriers while creating an impressive closeness. MEIN VIETNAM portrays Bay and Tam sensitively and personally in their flat and manages to make big issues visible that go far beyond their four walls: life between Germany and Vietnam, homesickness and responsibility, the internet and digital proximity."
FFF Talent Award Documentary Film
VÄTER UNSER (OUR FATHERS)
Director: Sophie Linnenbaum
Jury statement: "With a simple concept, Sophie Linnenbaum succeeds in opening up entire life worlds that burn themselves into the memory. In formal terms, VÄTER UNSER is characterised by a reduced, relaxed and concentrated setting. The outstanding montage opens up life worlds with an enormous range; stories that life writes, told without pathos, with human warmth and dignity. The stories about fathers are funny, sad, shocking, astonishing and touching. Documentary cinema that takes time for its protagonists and tells the often sorrowful and painful, but also beautiful and tender moments between daughters and sons and their fathers through faces and words in such a way that intense images inevitably arise in the mind. This film is an enrichment for all who engage with it."
Jury: Noni Lickleder (Head of Production Management, Department 34 / Film, Television, Radio, Goethe-Institut e.V.), Jörg Schneider (Editor ZDF/Das kleine Fernsehspiel), Roland Teichmann (Director of the Austrian Film Institute)
Donated by FilmFernsehFonds Bayern, endowed with 5,000 euros, for young Bavarian directors. (cross-row)
VFF Documentary Film Production Award
THE OTHER SIDE OF THE RIVER
Director: Antonia Kilian
Producers: Frank Müller (Doppelplusultra Filmproduktion), Guevara Namer and Antonia Kilian (Pink Shadow Films)

Jury statement: "The director and producer Antonia Kilian lived in northern Syria for a year, gave film workshops for young women there and made short films with them on women's rights. Meanwhile, Frank Müller and his Hamburg-based Doppelplusultra Filmproduktion tried to secure international financing for the film by applying for funding, at workshops, pitching events and co-production meetings. Certainly, this early effort to internationalise the project has left its mark on the dramaturgy of the film. At the same time, however, it reinforces the remarkable production achievement, which involved a great deal of personal commitment, considerable up-front work and an initially high financial risk – and which also has a virtually model character in other respects: People from the crisis region, all with a history of flight, were significantly involved in the project creatively and organisationally and were fairly remunerated in accordance with the problematic production conditions."
Jury: Halina Dyrschka (Producer and director), Thomas Frickel (Author, Director and Producer), Sonia Otto (Creative Producer)
The award is sponsored by VFF Verwertungsgesellschaft der Film und Fernsehproduzenten mbH and comes with prize money of 7,500 euros.
German Documentary Film Music Award
SOLDATEN (SOLDIERS)
Directors: Christian von Brockhausen, Willem Konrad
Composer: Christoph Schauer
Jury statement: "With the film score for SOLDATEN, Christoph Schauer has succeeded in creating a texture that is coherent, sophisticatedly inconspicuous and sparingly deployed but all the more effective. It is surprising in many ways and forms a substantial and discrete counterpoint to the exterior plot. It does not indulge in the use of expectably "critical" tautological tones and commentaries – as may be common in this genre – but delicately allows us to trace the protagonists' inner lives. The fact that – almost incidentally – the specific use of "silence" also takes on an extraordinarily "eloquent" musical quality as a result makes this film score so strikingly fresh and on the whole sets SOLDATEN apart from many productions of this kind."
Jury: Gerd Baumann (Composer and musician), Christofer Frank (Producer, Composer, Engineer), Sabine Gisiger (Documentary filmmaker and professor for documentary film ZHDK), Alexander Kukelka (Composer, Lecturer mdw – University of Music and Performing Arts Vienna), Michaela Melián (Artist and musician, Professor for Time-Related Media HFBK, Hamburg)
The German Documentary Film Music Award honours a composition that combines in an outstanding way with the documentary film narrative. It sees itself as a platform for the work of composers and the value of music as a narrative level in documentary film. The prize is endowed with 5,000 euros, sponsored by the Versicherungskammer Kulturstiftung and supported by the Förder- und Hilfsfonds des Deutschen Komponistenverbandes DKV.
DOK.fest Award of SOS-Kinderdörfer weltweit
SCHOOL OF HOPE
Director: Mohamed El Aboudi
Jury statement: "The documentary SCHOOL OF HOPE by Mohamed El Aboudi shows how fundamental education is to the progress of a society in a touching and poetic way. For these children, school is the place where they are able to just be children. It is a film that generates hope, that shows how intense and full of curiosity children can be, and how grateful they are to be able to learn. The film's narration is gentle in every respect. With slow panning shots across the landscape it impressively reveals the nomads' living conditions and develops a particularly close relationship to them. The outstanding camera work and the sensitive use of music strengthen this impression. The arid landscape appears to stand in contrast to the resilience of these children. Similarly, the film attests to the fact that there is no region on earth that is not touched by climate change. A poignant, sensitive film, which, in quiet tones, warns us not to close our eyes to society's problems but which, nonetheless, radiates hope through its strong protagonists, who are at the heart of the story. The film makes you long to go to school and in doing so counters the school apathy that you can often feel around here."
Jury: Michaela Braun (Deputy Chairperson of the Supervisory Board and the Personnel Committee of SOS Children's Villages worldwide), Sabine Bubeck-Paaz (Editor at ZDF/ARTE Culture and Music), Christine Kehrer (Head of TV/Video SOS Children's Villages worldwide), Wolfram Kons (General Manager RTL Charity / Board of Directors RTL Foundation / TV journalist), André Lentzen (Head of programme The Walt Disney Company), Michaela May (Actress), Prof. Dr. Dr. h.c. Heribert Prantl (Former member of the Editorship, now Columnist and Author of SZ), Thomas Sessner (Editorial director and producer of major events such as "Bayerischer Filmpreis", "Bayerischer Fernsehpreis", editorial director of "Grünwald Freitagscomedy")
The DOK.fest Award of SOS-Kinderdörfer weltweit is donated by B.O.A. Videofilmkunst and is endowed with 3,000 euros.
kinokino Audience Award – sponsored by BR and 3sat
HE'S MY BROTHER
Directors: Cille Hannibal, Christine Hanberg
With the kinokino Audience Award – sponsored by BR and 3sat – viewers have the opportunity to vote for their favourite films in the DOK.fest München 2021 @home programme. You have decided: HE'S MY BROTHER by Cille Hannibal and Christine Hanberg wins the Audience Award 2021.
The kinokino Audience Award comes with prize money of 2,000 euros. The sponsors are Bayerischer Rundfunk, 3sat and DOK.fest München. The audience award is named after kinokino – Das Filmmagazin im Bayerischen Rundfunk | 3sat.
DOK.forum award winners
DOK.forum Awards Ceremony 2021
At the DOK.forum awards ceremony, four endowed industry prizes were presented: the DOK.series Award, the DOK.digital – Award for New Narrative Formats, the Pitch Award of Haus des Dokumentarfilms and the British Pathé Archive Award. We introduce you to all the award winners.
DOK.edit Award – presented by Adobe
NEMESIS
Director: Thomas Imbach
Editors: Thomas Imbach, David Charap

Jury statement: "It was the overall integrity and the composition of the story that convinced us. The quality of the film comes very much from a great editing job that turns a local and personal story into a universal one. It is also through the editing that a number of narrative layers are brought together brilliantly. By re-arranging reality, the film not only convinced the jury through the craft of editing but the art of editing. We, the jury of the dok.edit award are proud to present this award to the editors of Nemesis, David Charap and Thomas Imbach."
Jury: Peter Indergand (cameraman), Mary Stephen (film editor), Ruken Tekes (human rights expert, filmmaker)
DOK.edit Award – presented by Adobe is ponsored by Adobe and endowed with 5,000 euros. Nominated were films with outstanding editing work.
DOK.series Award
UN PEDAZO DE PAZ
Jacobo Albán (director), Carlos Zerpa (director and producer), Benoît Ayraud (producer)
Jury statement: "The DOK.series Award jury awards its prize to UN PEDAZO DE PAZ, a short animated series that depicts sixty years of war in Colombia through intimate accounts of their experiences. The animated characters – amalgams of real survivors and supporters of the peace processes of the Colombian government and the FARC guerrillas – convey the everyday horrors of their war experiences in a way that is both tangible and poignant. Their voices are spoken by individual survivors, creating a powerful, universal narrative of resilience. The masterfully crafted animation in UN PEDAZO DE PAZ shines a light on what should remain hidden: the gaping wound of a country and its people."

Jury: Petra Felber (BR), Volker Neuenhoff (Amazon Studios), Richard Ladkani (Malaika Pictures), Laura-Sophie Nied (ZDF/funk), Sarah Elena Schwerzmann (ARTE G.E.I.E)
The DOK.series Award is endowed with 2,500 euros and is sponsored by TELLUX-Film and megaherz.
DOK.digital – Award for New Narrative Formats
SAFESPACE
Whitney Bursch, Säli El Mohands, Rosa Fabry, Saphira Siegmund, Lea Wessels, Ariane Böhm, Elena Münker, Kim Neubauer
Jury statement: "A young editorial team creates content around the topics of mental and physical health and well-being for an even younger and hard-to-reach audience. The platform of choice is TikTok, where this audience is at home. The SAFESPACE team communicates authentically and at eye level, and the community's feedback is taken up directly and translated into new content. SAFESPACE indeed offers a protected space on a platform where very young users in particular feel at home and look for like-minded people. A platform that, like many other social media channels, is not always entirely innocent of problematic body images and insecurity due to the many perfectly staged images/videos and negative comments."
Special Mention
THE SMALLEST OF WORLDS
Bettina Katja Lange and Uwe Brunner

Jury statement: "THE SMALLEST OF WORLDS provides a very intimate look into private space, which has once again taken on a new significance due to the restrictions of the Corona pandemic. Starting from the retreats of the project artists, an environment of 300 glimpses into private spaces of people from 40 nations developed via crowdsourcing. The rooms were created with the help of photogrammetry. With this technique, it is possible to transform real spaces from images and videos into 3D models and then make them accessible with the help of virtual reality via VR glasses or in the browser."
Jury: Volker Bach (Head of MIZ Babelsberg and ALEX Berlin), Prof. Dr. Lena Gieseke (Professor for Image-Oriented Media Technologies at the HFF Konrad Wolf), Matthias Leitner (Freelance writer, digital storyteller and strategy designer), Sabrina Scharpen (Lead Format Development HR New Media / ZDF), Jutta Schirmacher (Media literacy and youth protection officer at BLM)
DOK.digital – Prize for New Narrative Formats is sponsored by the Bavarian Regulatory Authority for Commercial Broadcasting and is endowed with 2,500 euros.
Pitch Award of Haus des Dokumentarfilms
DER SIEBTE SOHN (THE SEVENTH SON)
Director: Max Carlo Kohal

Jury statement: "Max Carlo Kohal takes us into a clearly defined universe for his long-term observation - a cargo ship on European inland waters. From Basel to Rotterdam, always along the Rhine. Three men steer the ship and spend their lives there. With the director, we accompany the young Rudmer, who will spend the next three years training to become a sailor. The jury of the Pitch Award appreciates this insight into a world that is unknown and unseen. [...] The director shows us the complex world of industrialised goods traffic - and at the same time presents a very personal film here, shot in a very confined space, a globalisation story from below."
Jury: Antje Boehmert (DOCDAYS Productions GmbH), Anne-Kathrin Brinkmann (ZDF/ARTE), Tobias Cassau (ZDF/ARTE), Petra Felber (BR), Sharon Nun (ORF), Sara Günter (ZDF, funk), Jutta Krug (WDR), Chatherine Le Goff (ARTE), Esther van Messel (First Hand Films), Peter Schernhuber (Diagonale), Aline Schmid (Beauvoir Films), Marcus Vetter (SWR), Sven Wälti (SRG SSR), Ralph Wieser (Mischief Films)
The prize for the best young talent concept is endowed with 2,500 euros and donated by Haus des Dokumentarfilms Stuttgart.
German Composition Funding Award
MAY IT BE A GIRL
Akmaral Zykayeva (composer), Katerina Suvorova (director), Viktoriya Kalashnikova (producer)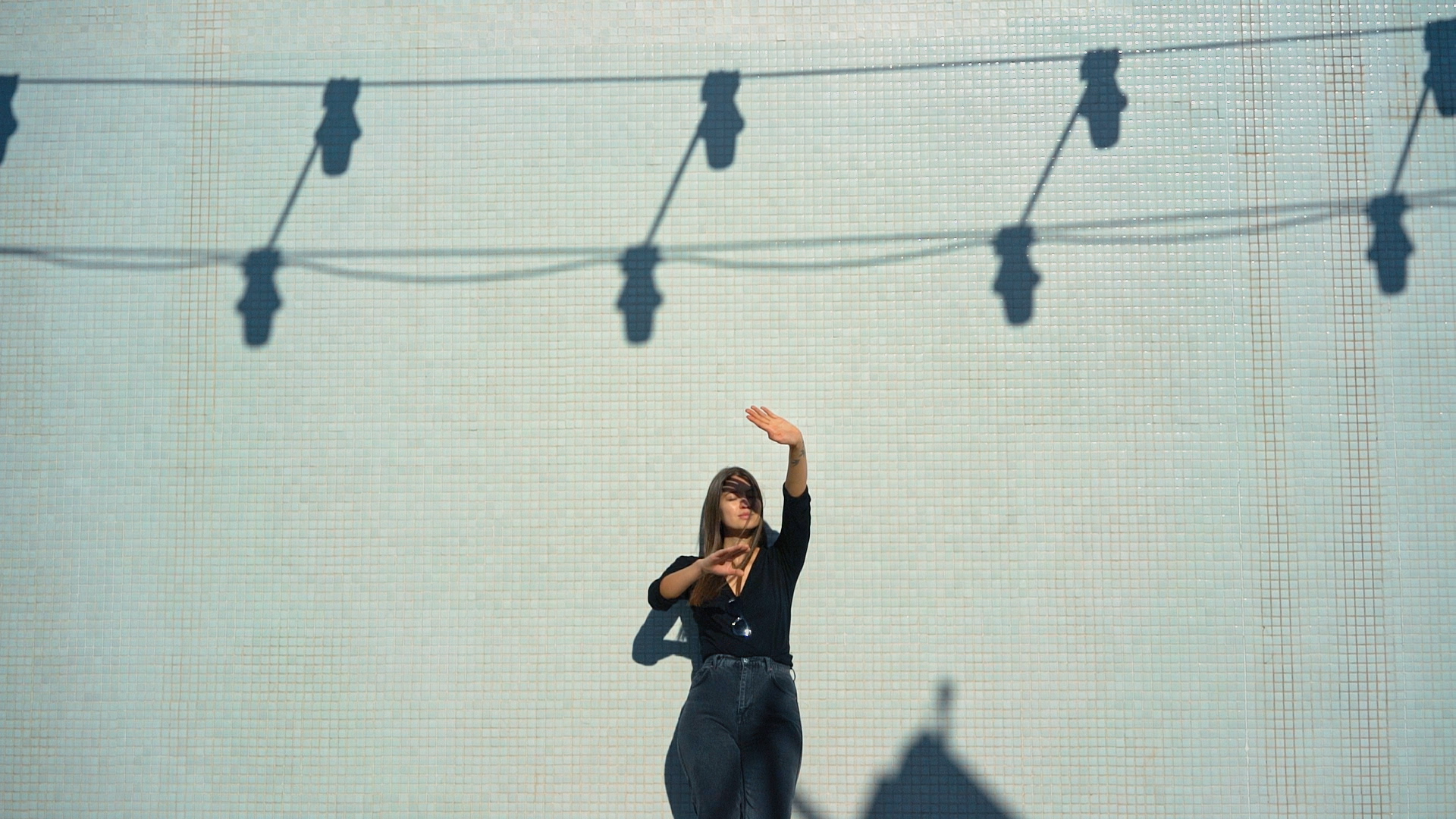 Jury statement: "MAY IT BE A GIRL deals with a widespread phenomenon in Kazakhstan. The portrait film explores the self-perception of modern Central Asian women who have been given male names by their parents because they wanted a boy and not a girl as a child: One such name, for example, is Ulbolsyn - Shall it be a boy. The protagonists reflect on the meaning and consequences of their name and thus pose questions about the significance and place of women in family and society. [...] Musician and composer Akmaral Zykayeva aka Mergen will create an auteur soundtrack in close collaboration with director Katerina Suvorova and producer Viktoriya Kalashnikova. [...]"
Jury: Gerd Baumann (Composer and musician), Christofer Frank (Producer, Composer, Engineer), Sabine Gisiger (Documentary filmmaker and professor for documentary film ZHDK), Alexander Kukelka (Composer, Lecturer mdw – University of Music and Performing Arts Vienna), Michaela Melián (Artist and musician, Professor for Time-Related Media HFBK, Hamburg)
In order to strengthen the artistic cooperation between filmmakers and composers, the best musical concept for a documentary film will be awarded 2,500 euros. The prize is donated by Sonoton Music, the world's largest independent provider of professional production music.
British Pathé Archive Award

LIFE IS NOT A COMPETITION BUT I'M WINNING
Director: Julia Fuhr Mann
Jury statement: "Our audiovisual heritage is our preserved memory. We can find in this collective memory many beautiful as well as unpleasant perspectives on ourselves that were never in the conscious intention of the recorders. It is this new look at our past that the director and producers use to bring their project LIFE IS NOT A COMPETITION BUT I'M WINNING into the present. By reflecting to us the power of our communal adherence to norms and narratives, they ask us about our willingness to change. The project by Julia Fuhr Mann, Sophie Ahrens and Melissa Byrne addresses the utopian potential of competitive sport beyond rigid gender boundaries and images. [...]"
Jury: Gunnar Dedio (LOOKSfilm), Nina Goslar (ZDF/ARTE), Karin Jurschik (HFF München), Euridice Zaituna Kala (Euridice Kala), Julia Teichmann (German Films), Simon Witter (British Pathé Ltd.)
The award honours projects with a large share of archive material, thus strengthening a documentary genre rich in tradition. The winning project receives British Pathé archive material worth 15,000 euros or alternatively 2,500 euros in cash.
DOK.forum festival and mentoring awards
Sunny Side of the Doc Award
LIFE IS NOT A COMPETITION BUT I'M WINNING
Director: Julia Fuhr Mann
Production: Melissa Byrne, Sophie Ahrens
DAE Talent Award
8 BIS 18
Director: Cosima Frei
Production: Nadine Lüchinger
The following project has won one year of DAE membership:
HOSTAGE
Director, producer: Liwaa Yazji
Nebulae Project Award
HOOD RIDERS
Director: Florian Baron
Production: Dimitri Hempel
Doc Around Europe Awards
Chaperone Projects:
DocsBarcelona:
THE WOLVES ALWAYS COME AT NIGHT
Director: Gabrielle Brady
Production: Julia Niethammer
FIPADOC:
HAYFLICK LIMIT
Director: Thomas Licata
Production: Florence Saâdi, Christine Pireaux
MakeDox:
tba